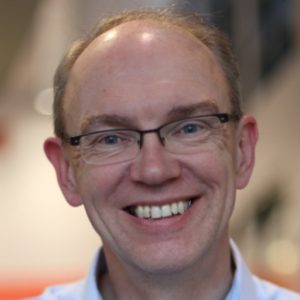 Chris Rider has been Director of the Cambridge Innovation and Knowledge Centre (CIKC) since 2009 and Director of the EPSRC Centre for Innovative Manufacturing in Large Area Electronics from its inception in 2013.
Before taking up the position of CIKC Director, Chris was a Department Head at Kodak European Research, Cambridge, leading a team of scientists working on various projects to provide technology for Kodak's Displays and Graphic Communications businesses.
Prior to that, Chris set up and led a research team whose focus was to develop technologies to enable the manufacture of optoelectronic structures of all kinds on plastic substrates. Projects included cholesteric LC and electrowetting reflective display technologies, inorganic electroluminescent displays, zinc oxide thin film transistors, flexible photovoltaics, electronically tunable photonic crystals and additive self-aligning processes for patterning functional materials. Chris has also led commercialisation projects for Kodak and has first hand experience of the processes needed to take technology from its initial conception through to product launch. Chris is a holder of 33 patents with more pending.