Students complete 2 Mini projects of 8 weeks duration and one Midi project of 12 weeks duration during their first year. These projects are designed to help expand the research horizons of students, before they decide on their PhD topic. The Midi project is normally expected to continue on into a PhD.
Mini Projects
The Mini projects are 8 weeks in length (Nov – Jan and Feb – Apr) and run alongside other courses that students take during their MRes year. These projects give students an exposure to day-to-day research environments, and also help them explore new research areas that they have not worked in previously.
Midi Project
The Midi project is 12 weeks (May – Jul) and helps students test the ground with their PhD topic, supervisor, and research group before committing to doing their PhD in that area. Most students tend to continue on from their Midi to PhD in the same group.
PhD Project Topics
Throughout their first year, students speak to potential PhD supervisors from around the University to help identify and explore a PhD project that fits their interests and NanoDTC research themes as well as other requirements. This process is facilitated by the NanoDTC through the release of PhD project expressions of interest and opportunities to meet thereafter with people from different groups, including eligible supervisors as part of the programme (Nov-Jan).
The choice of PhD projects is made around April. These proposals are all vetted by the NanoDTC External Advisory Board for ambition, risk, and fit to NanoDTC themes before students choose one project in which they are most interested.
Students then flesh out their chosen PhD project proposal and defend it in front of a viva panel in July before embarking on their PhD in September. Brief descriptions of the PhD projects undertaken by our students are included below.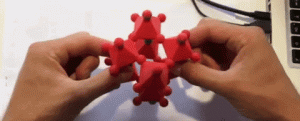 Solar cells are traditionally made from high purity semiconductor materials, such as silicon. Their production requires high temperatures and ultra-clean environments, which makes them expensive. The resulting structure of the material is extremely ordered and rigid. A novel class of solar cell materials has recently been discovered. These materials are called hybrid perovskites. They have the same efficiency for converting light into electricity as the traditional semiconductors, but do not rely on the same expensive production process. This favourable combination has attracted many scientists to this material over the past decade.
Read More »