The NanoFutures Scholars Undergraduate Research Programme provides research experience in nanoscience and nanotechnology to undergraduate students who have previously only had limited exposure to research. Applicants will be selected based on their academic achievement and potential in the context of their education to date and on the benefit which the programme might provide.
The residential programme will run over 8 weeks at the University of Cambridge, from the 10th July to the 1st September 2023. NanoFutures Scholars will be paid at the Cambridge Living Wage, will be reimbursed travel (via public transport) to and from Cambridge, and will be provided, free of charge, with single accommodation at Selwyn College, Cambridge for the duration of the programme including weekends.
The NanoDTC is hugely grateful to Selwyn and its donors for its generous and ongoing support for the NanoFutures Scholars programme.
The aim of the NanoDTC's NanoFutures Scholars programme, which ran first in summer 2022, is to find and support those undergraduate students who have the potential to become the future of nanoscience and nanotechnology research—a future which we are striving to make more diverse and inclusive. The NanoFutures Scholars programme is competitive, with both academic achievement and potential considered during selection. We particularly welcome applicants who have not yet had the opportunity to demonstrate their full potential, because of particular social or personal circumstances.
Participation in the programme offers you a chance to experience postgraduate research first-hand before determining whether to pursue research as a potential career. The programme is also expected to bring other benefits to the NanoFutures Scholars, including:
Getting the chance to engage with inspiring staff and students at one of the most prestigious research-intensive universities in the world;
Learning useful skills for preparing strong postgraduate research applications, including interview skills, writing personal statements, and securing effective references;
Obtaining valuable research skills and experience that will enhance your CV and strengthen your future potential postgraduate study applications.
The programme and the research internships will run for 8 weeks from Monday 10th July 2023 to Friday 1st September 2023. Scholars will be asked to arrive during the weekend of the 8th July and will be able to leave on Saturday 2nd September. The deadline to submit your application is 12 noon, Friday 27th January 2023.
When I applied to the NanoFutures Scholars program I was not sure whether research was for me, so I was intrigued by the idea of getting to 'trial' researching at the highest level and discover what life is like for students working in labs in Cambridge. My mind could not have been changed more on a career in research and how amazing post-graduate life is! The internship was one of the most enriching times of my entire undergraduate degree, not only has it changed my perspective on research from a bore to something truly unique, the program helped me make priceless academic and industry connections, as well as lifelong friends with the other interns.
The topic of nanomaterials was introduced to me in one of my past modules and I was intrigued by their potential for drug delivery. Once I saw the advert for the NanoFutures Scholars internship programme, it was only reasonable that I apply. The NanoFutures coordination team made the right choice by matching me with Professor Ronan Daly's group who focus on hard-to-treat cancers. As an intern, I gained practical and soft skills that can be applied to a variety of career ambitions, as well as real-life experience in working independently and with a team. A highlight of the programme for me was meeting and making friends along the way. It was a great experience to be part of the NanoFutures internship programme and I strongly encourage anyone to apply!
The skills and, more generally, life lessons I learnt in such a short amount of time far exceeded my expectations. The program appealed to me because of my interest in nanoscience's broad and far-reaching nature. I wanted a field at the edge of our current scientific knowledge, with a wealth of opportunities to innovate and discover. Previously, I had thought research could be an isolating and demanding life choice but this internship showed me that it needn't be the case. The environment that welcomed me at Cambridge was incredibly stimulating, full of energetic researchers looking to share their work and stories with you. Being in a group of interns all looking to learn and make the most of the summer was immensely gratifying and inspiring, with every college dinner being an opportunity to dive into different topics and perspectives.
Click on the images below to explore some of the research currently being undertaken by NanoDTC PhD students: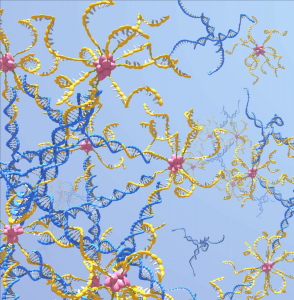 DNA is nature's hard-drive, able to store the information required to create all life. It exists in nature as a double helix, with two strands
Read More »
The NanoFutures Scholars programme includes three main elements:
An internship within a research group in one of the departments related to nanoscience and nanotechnology at the University of Cambridge. Scholars will be supported within the research group through a daily supervisor (e.g. a PhD student or postdoc) and a faculty member (e.g. a professor). Where possible, NanoFutures Scholars will work on pairs of related projects, in the same department, so that they can also discuss their work with a peer;
Information and training on how to apply for postgraduate study, including interview skills, writing personal statements, preparing strong applications, and securing effective references;
Participation in a network of peers—other NanoFutures Scholars (we expect to recruit a cohort of up to 8 interns for summer 2023) as well as current NanoDTC students and associates. The peer network will provide a weekly programme of shared experiences, including social and extracurricular activities.
All NanoFutures Scholars will additionally be supported by a nominated mentor as well as an overall programme tutor.
The programme is open to students currently studying for an undergraduate physical sciences or engineering degree, interpreted broadly, with at least one year left on their degree. At present, only permanent residents of the UK who are studying for an undergraduate degree at a UK higher education institution are eligible to apply. Further details of the eligibility criteria are outlined in detail in the applicant guidelines (here), which we strongly recommend you read fully before applying.
In addition, in order to widen participation and to tackle the underrepresentation of—and overcome the disadvantage experienced by—certain groups in the physical sciences and engineering at Cambridge, priority will be given to those applicants who have not already studied at either Oxford or Cambridge and who satisfy one or more of the following criteria:
have received free school meals;
entered university at undergraduate level from a Care background or a Foyer resident;
are estranged from their family;
have been a single parent, or lone guardian of a young person who is aged under 18 and/or still in full-time education during their undergraduate degree course;
have caring responsibilities for an ill or disabled family member who could not manage without this help;
were the first generation of their family to go to university.
We also particularly encourage applications from those who:
at the time of applying for their undergraduate course, were living in one of the most deprived areas of the country;
at the time of applying for their undergraduate course, were living in an area where it is unusual for young people to go to university;
identify as belonging to an underrepresented ethnic group and/or gender in the physical sciences and engineering at Cambridge;
are a mature student;
have received full state support for maintenance for their course of undergraduate study;
have refugee status.
Further information on the above criteria, and whether or not you may satisfy them, can be found in the applicant guidelines (here).
The application consists of a single online form (here), which requires you to upload a recent copy of your university transcript. If you use the same device and browser, you should be able to return to the form at a later point if you cannot complete it in a single sitting.
Your application must be completed and submitted by the application deadline of 12 noon, Friday 27th Jan 2023. Full instructions, as well as further details of the criteria by which successful candidates will be selected, are offered in the applicant guidelines (here), which we strongly recommend you read before applying.
If shortlisted, you will be invited to a virtual assessment event currently planned to take place the week beginning the 6th March 2023. This will include virtual lab tours, informal chats with current PhD students, and two short (c. 10 – 15 minute) interviews which will take the form of a conversation to further explore your application.