We offer an MRes+PhD degree covering bespoke training in key areas of Nano to translate exploratory nanoscience into impactful technologies, and to stimulate new interactions that support our vision.
The MRes year provides high-quality advanced-level training through lecture courses, hands-on practicals and two shorter (8-week) and one longer (13-week) experimental projects, prior to final selection of an interdisciplinary PhD research project between two research groups in the Departments of Physics, Chemistry, Engineering, Materials or another relevant department across the University.
An example of how the different strands of training have worked together in recent years is below. The most up to date information regarding training for our current cohorts can be found in the student handbook and other internal platforms.
Below: Recent example of MRes+PhD training schedule (course components and timings may vary year to year)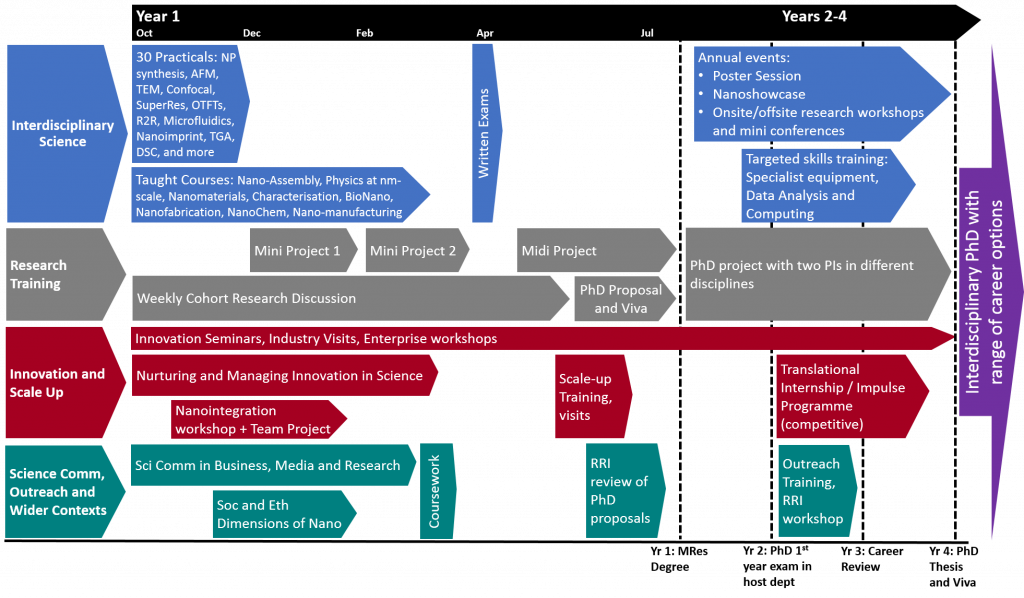 A significant element of the MRes training and beyond is a focus on innovation and industry engagement, including courses on nurturing and managing innovation in a scientific context, systems design and integration of nanomaterials and devices, and the responsible practice and communication of science, and opportunities to transition academic research to higher Technology Readiness Levels and commercial applications through the NanoFutures Leadership Award.
Professional skills training and cohort-based activities are other important elements of the programme which are included in the MRes year as well as the PhD phase. Formal training in science communication during the MRes year is complemented by a range of cross-cohort events throughout the programme, such as student-led conferences, research seminars, onsite and offsite research and career development workshops led by internal and external experts, and other activities.
The programme is suited to students who are keen to move beyond the silo of a single scientific discipline, to develop a holistic research approach that is problem focussed, and to be part of a vibrant research community. The programme welcomes applicants from across the physical sciences including Chemistry, Physics, Materials, Engineering and any other subject that gives applicants a good background to undertake a PhD in nanoscience and nanotechnology.
Students completing the programme go on to careers in industry and academia, and a significant number have also set up their own startups.
For information on how to apply see here. You can also contact one of our current MRes+PhD students to find out more about the programme.