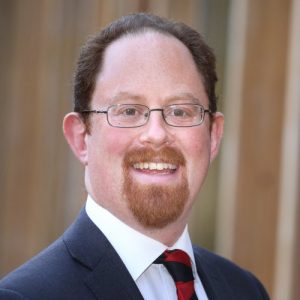 Julian studied at Trinity College, Cambridge, completing a PhD in Biological Chemistry in 2005 on unusual structures of DNA. In particular, DNA of particular sequences can form four-stranded knot-like structures called G-quadruplexes, which can function as genomic switches, turning genes on and off.
He secured a Junior Research Fellowship at Trinity College, Cambridge, was a Research Councils UK Academic Fellow, and held a University Lectureship in the Cavendish Laboratory.
Julian has also been involved in politics, serving as a County Councillor in Cambridgeshire, and then as Member of Parliament for Cambridge. During this time, he was particularly noted for his work on civil liberties, science, cycling, and technology policy, winning awards ranging from being named ISPA 'Internet Hero of the Year' to Parliamentary Beard of the Year.
In 2016 Julian was appointed the Founding Director of the Intellectual Forum in Jesus College. He is also Deputy Chair of the NHS Cambridgeshire and Peterborough Clinical Commissioning Group, a Director of the Joseph Rowntree Reform Trust Ltd, and has a Ministerial appointment to the Home Office Biometrics and Forensics Ethics Group. He has also advised a range of technology companies about ethics and governance, including being Founding Chair of the Independent Panel of Reviewers of DeepMind Health. He is also a Visiting Professor at the Policy Institute, King's College London.